Why buy from us?
We have agent company which have more than 7 years experience in machine industry especially Outboart Engine / Outboard Motors . already more than 5 years we do cooperation with outboard distributor from various country like japan and usa. all the outboard we sell to you directly we take from them and sell back to you. in this business we are able to provide an affordable price, this is our advantage over this, because we are directly in touch with other outboard companies.
How does our business model work?
A little we explain below, how the business works that we run now.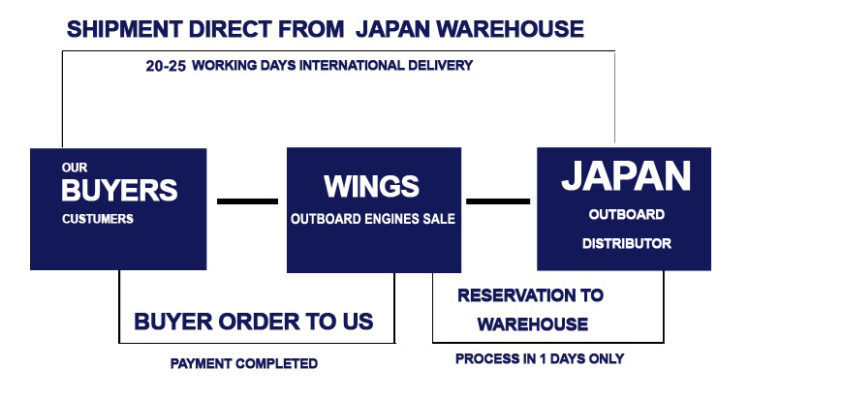 The supplier's company premises has been checked by singapore chamber of commerce, staff to ensure onsite operations exist there. A third-party verification company has confirmed the legal status of the supplier.
Business Name                                           : WINGS OUTBOARD ENGINES PTE LTD
Registered Capital                                      : SGD 850,000
Business Type                                             : Outboard Distributor – Trading Company
Operational Address                                  : 622 North Bridge Rd, Singapore 198745
Trade & Market
Main Markets                                              : 30.00% South America
23.00% North America
20.00% Eastern Europe
Total Annual Sales Volume                      : US$3 Million – US$10 Million
Export Percentage                                      : 65% – 75%
Business Terms
Accepted Delivery Terms                          : FOB, CFR, CIF, EXW, Express Delivery
Accepted Payment Currency                    : USD, EUR, CNY
Accepted Payment Type                            : T/T, Credit Card, D/P D/A, PayPal
Minimum Order Value                               :  >US$ 500
Nearest Port                                                 : Changi Singapore & Tanjung Priok Jakarta Indonesia
Trade Ability
Language Spoken                                        : English, Chinese, Indonesia
No. of Employees in Trade Department  : 11-20 People
Average Lead Time                                      : 10 -12 Business Day(s)
Factory Information
Factory Size                                                   : 300-500 square meters
Factory Location                                          : 622 North Bridge Rd, Singapore 198745
No. of Production Lines                              : 7
Contract Manufacturing                             : OEM Service Offered
Annual Output Value                                  : US$3 Million – US$10 Million
Product Price Range                                    : Average
TOP FAQ Please read these before send questions to us :
How about product info ?
All of our products is brand new, Genuine Factory sealed, come with original box and accessories, and have international warranty from their manufacture.
Can I place an order for a business ? Can I place a bulk order?
Minimum order is 1 unit, maximum is 6 units for all product, but if its succesfull we can supply for order in bulks.
Are all the wings outboard engines on the website still available ?
Yes, We always keep stock of  wings outboard engines always available. On the Products page, you will see the status for each item in the Comments section where it will let you know the availability. Products that are labeled "Temporarily Sold Out" should be re-stocked so check back often.
How long will it take to receive my product once I pay?
Product will ship out within 1-2 Business days. Usually, It will ship out the same day or next day.
Standard Asia delivery times are 10 -15 days, we do offer a Next Day delivery service if you need your order in a hurry.
20-25  Business days ( United State ) US, Brazil, Argentina, Colombia, Canada and Other.
20-25  Business days ( Europe )  UK, Italy, France, Spain, Portugal, Swiss, Sweden, Germany  .
10-15  Business days ( Australian and New zealand )
Please see details at https://www.outboardenginesale.com/terms-and-conditions/
How much is shipping?
The shipping of foreign products is always free, plus your package free to VAT, customs duties and taxes, So you do not have to pay any more costs when the packages arrive at your address. We will pay here.
What is your privacy policy?
You can read our full Privacy and Security Policy here at https://www.outboardenginesale.com/privacy-policy/
How about Return and Exchange policy?
We supply 90 days return policy if you are not satisfied with the goods you buy. Such as examples: Engine are not original, Engine are damaged, Get wrong size, Wrong color, Not Working, does not function properly or is different from the description, please email me back, within 48 hours of receipt and we will make arrangements to exchange the product. If an item is not available, we will refund your 100 % total payment.
Exchanges or refunds will not be processed until the original item is returned to the warehouse and verified.
Our outboards Warranty :
Suzuki  Outboards 3 Years International Warranty
Honda  Outboards 5 Years International Warranty
Tohatsu Outboards 5 Years International Warranty
Mercury Outboards 5 Years International Warranty
Yamaha Outboards 5 Years International Warranty
Evinrude Outboards 3 Years International Warranty
What is the advantage if buy from us? We give you some free accessories and we provide free duty tax for worldwide shipping.
1X Fuel Tank Depending on outboard type
1X Quick Connect Fuel Line
1X Aluminum Propeller Depending on outboard type
1X Owner's Manual & Tool Kit
1X  International Warranty Card 3-5 Years from Manufactures
1X Garmin eTrex Touch 35 Handheld GPS with World Basemap
3X Gall Engine Oil Depending on outboard type
1X Steiner Navigator Pro 7 x 30 Binoculars with Compass
1X Ebook How to install
This promotion is only valid for purchasing outboards from brand suzuki, honda, mercury, yamaha, tohatsu, if you buy another type, you still give us free GPS and Binucular. We also provide discount and Free duty tax for worldwide shipment.
Here at https://www.outboardenginesale.com We're friendly, knowledgeable, and efficient. Please feel free to ask  if you have any questions regarding an order, shipping, products and returns.
Once again thank you for choosing our company for your business partner, and i hope we can be a partner for long time.
Leave a Message
If you have other questions besides the information above, please ask us again through the form below:
WINGS OUTBOARD ENGINES PTE LTD
Address: 622 North Bridge Rd, Singapore 198745
VAT: 21816041
Co. Reg. 826/04299/0028.B/IX/2011
Phone: +65 6748 0810
Hotline International order : +62889 6729 241
Email :  sales@outboardenginesale.com
Extension 1: Sales only
Open seven days
| | |
| --- | --- |
| Monday to Friday: | 08:00 – 21:00 GMT |
| Saturday: | 09:00 – 21:00 GMT |
| Sunday: | 10:00 – 19:00 GMT |
Extension 2: Customer support
| | |
| --- | --- |
| Monday to Friday: | 09:00 – 17:30 GMT |
| Saturday: | 09:00 – 13:00 GMT |
| Sunday: | Closed |